07-05-2018, 03:23 PM
Administrator

Join Date: May 2008

Posts: 485

July Alberta Outdoorsmen now on newsstands
---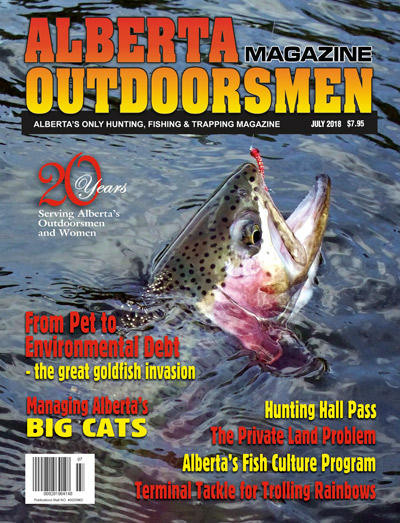 Inside this issue:
News & Notes from Around the Outdoor World
Métis Harvesting Back on the Table
SCI Canadian Manager Jason St. Michael
Alberta's Fish Culture Program
Rough Ride for OHVs
Do We Really Need Private Zoos?
Photography: Capturing the Image of Tiger Beetles
No Boat to Play On? Fish from Shore
Myths Busted
Terminal Tackle for Trolling Rainbows
Anticipation
Fleshing Basics
Adult Damselflies: An Opportunistic Meal
Recipe: Venison with Blueberry Sauce
The Private Land Problem
The Return of Eley
From Pet to Environmental Debt
Managing Alberta's Big Cats
It's Hammer Time!
Hunting Hall Pass
Hunting 365
Reader Submitted Story
and much, much more!